RESETTING THE  WIFI CONNECTION FOR YOUR JELLYFISH CONTROLLER
YOU SHOULD ALMOST NEVER HAVE TO DO THIS!  ONLY CONSIDER FOLLOWING THESE STEPS IF YOU CHANGE YOUR WIFI ROUTER OR HOMEWIFI SETUP.  IF YOU ARE UNSURE IF YOU SHOULD TRY THIS, PLEASE CONTACT YOUR LOCAL DEALER TO CONFIRM.
Here are the basic steps to follow.
NOTE 1: Please note that the JellyFish Controller will only connect to wireless routers that are outputting a 2.4G  signal.  Many routers also include a 5G network and sometimes even a 6G network.  The JellyFish Controller will not detect or connect to those and any 5G or 6G networks that your WIFI router is putting out will not be displayed as an available network on the controller WIFI setup screen.  Please ensure that a 2.4G signal is enabled for your router (most routers have this enabled by default)
NOTE 2: If you have a "mesh" network (aka… a main HUB router and then some satellite mesh routers routers throughout your home), then it is a good idea to temporarily unplug the satellite routers and only have the main "parent" mesh router active while setting up the WIFI.  Hopefully the controller can reach the parent router with a good signal.  The reason for unplugging the satellite routers is that sometimes if the JellyFish Controller gets set up to a satellite mesh router, it may have problems recognizing when someone is connected the parent router and trying to operate the controller. This is a common glitch with some mesh networks).
You can enable the satellite routers after the setup to the main parent router is successful.
NOTE 3: If you have WIFI "repeaters" or "extenders" in your home, it is a good idea to unplug all of them… except for the one closest to the controller during setup.  The reason for this is because initially during the WIFI setup your smart device/phone should be connected to the SAME WIFI device as the one selected on the controller WIFI setup screen.  If you have multiple extenders/repeaters in your home, you could get into the situation where the controller connects to the nearest repeater/extender, but your phone has connected to a different repeater/extender elsewhere and they are not communicating properly because they are not on the SAME network.
ONCE YOUR CONTROLLER HAS CONNECTED SUCCESSFULLY TO YOUR WIFI NETWORK AND YOU ARE ALSO ON THE SAME WIFI NETWORK, IT IS RECOMMENDED TO DOWNLOAD THE NEW JELLYFISH CLOUD APP AND THEN YOU CAN CONTROL YOUR SYSTEM FROM ANYWHERE AS LONG AS YOUR SMART DEVICE/PHONE HAS AN INTERNET CONNECTON.
STEP  4) Click OK and then click OK again when the display says RESET WIFI.  This will reset the WIFI settings back to factory default.
NOTE:  Make sure you select RESET WIFI… not RESTART WIFI.  If you select RESTART WIFI the only thing that will happen is that the controller will restart the WIFI connection… but it won't be reset to the default settings.
You have now successfully reset your JellyFish Controller WIFI back to the factory settings. (Not the rest of the controller… just the WIFI connectivity)
Now you need to reconnect your controller to your local WIFI system.
RECONNECTING YOUR CONTROLLER TO YOUR LOCAL WIFI NETWORK
STEP 1) Go to your smart device (phone, tablet, iPad, etc..) and go to Settings >> WIFI
STEP 2) Search the WIFI local network devices and you should now see a network there called something like JELLYFISH – XXXX.  Select that network.  When it asks for a password, type "bigfish10".  That is the factory default password for the controller.  It will connect you to the controller.
NOTE 1:  Some smart devices may alert you that there is no internet connection on that network and ask you if you want to stay connected.  You must stay connected.
NOTE 2:  Technically you can control your Jellyfish Lighting from this current state.  You are connected directly to the controller (through your phone WIFI settings) so you can control anything within the controller… including the lights .  The reason you don't want to remain in this setup state is because the controller WIFI connection doesn't have the range that your home's WIFI system does and also because you don't want to have to always go into settings and connect your smart device/phone directly to the JELLYFISH – XXX WIFI. It's just inconvenient to do this.  However, it can be used to quickly control your lights if you are having WIFI connection problems.
STEP 3)  After you have connected directly to the JELLYFISH–XXX network, go back and open the JELLYFISH DESIGNER APP.
Then go to SETUP>> WIFI SETUP.
STEP 4) You can ignore the instructions at the top of this page on the APP, as we have already done them in this tutorial.  Simply go to the bottom and click SEARCH FOR NETWORKS.
NOTE: These are all 2.4G networks that are available and in range of the controller.
STEP 5) When you see your network, click on it and then type in the password for that network in the field provided… and then click CONNECT.
STEP 6)  It will take 1-2 minutes for the controller to successfully complete the connection to that network.    You will most likely see some alert at the end on your smart device that says that it cannot connect to the controller… and all you need to do is completely close the JF Designer App and go back to the main home screen on your smart device.
BEFORE WE PROCEED, LET'S UNDERSTAND WHAT WE HAVE DONE.
We have simply connected the JELLYFISH Controller to your main home WIFI network.  It will acknowledge any commands that it gets from that network.  Essentially the Jellyfish Controller is now a part of your home WIFI network.
STEP 7) Now that the Jellyfish Controller is part of your home WIFI network, all you need to do is connect your smart device/phone to your main home WIFI network and then open the JellyFish Designer App.  You should now be able to control your JellyFish Controller by simply  opening the App when you are connected to your home WIFI network.
STEP 8) Since the Controller is now connected to your WIFI network (and thus also to the internet), you can now use the JellyFish Cloud App and set it up so that you can control your Jellyfish lights from anywhere!
NOTE:  Either App will work to control your lights.  See the explanation for the JF Designer and JF Cloud App page…
That should do it!
As an emergency last resort, if for some reason your smart device/phone is connected to your local WIFI home network and for some strange reason the JellyFish Designer App is unable to find the controller while on that network, you can always CONNECT DIRECTLY TO THE JELLYFISH -XXX network  and control it that way.
However, instead of using "bigfish10" as the password (which is simply the factory default password) you now need to use your local home WIFI password when logging onto the controller (this assumes that the controller connected successfully to your local WIFI network.  If it didn't ever get successfully connected/setup to your local home network,  then "bigfish10" would still work since it must still be in the factory default state).
TROUBLESHOOTING
Sometimes after performing all of the steps above,  it is helpful to reboot the controller and also reboot your smart device.  The controller may take several minutes to reboot. After the controller reboots, wait for the WIFI signal strength meter to "settle down" and display the signal strength.
!C means no connection!!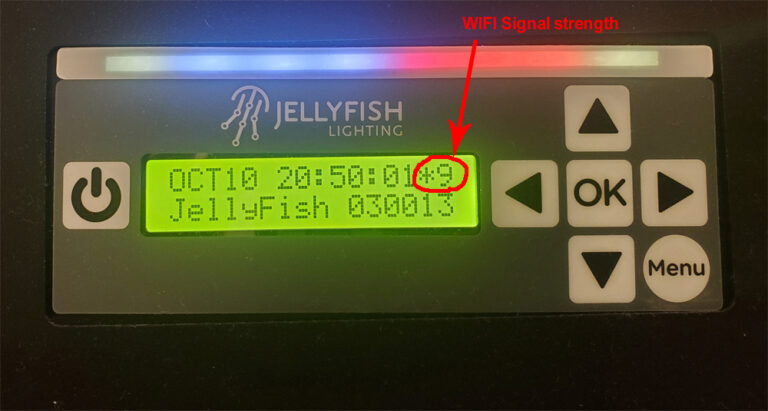 Once a good signal strength is displayed, you should be able to open your smart device/phone, connect to the same WIFI network and then open your JellyFish Designer app… and it should start up and allow you to control your lights.
It is highly recommended that after a successful setup as described above, you download the newest JellyFish Cloud App and begin using it from here forward.